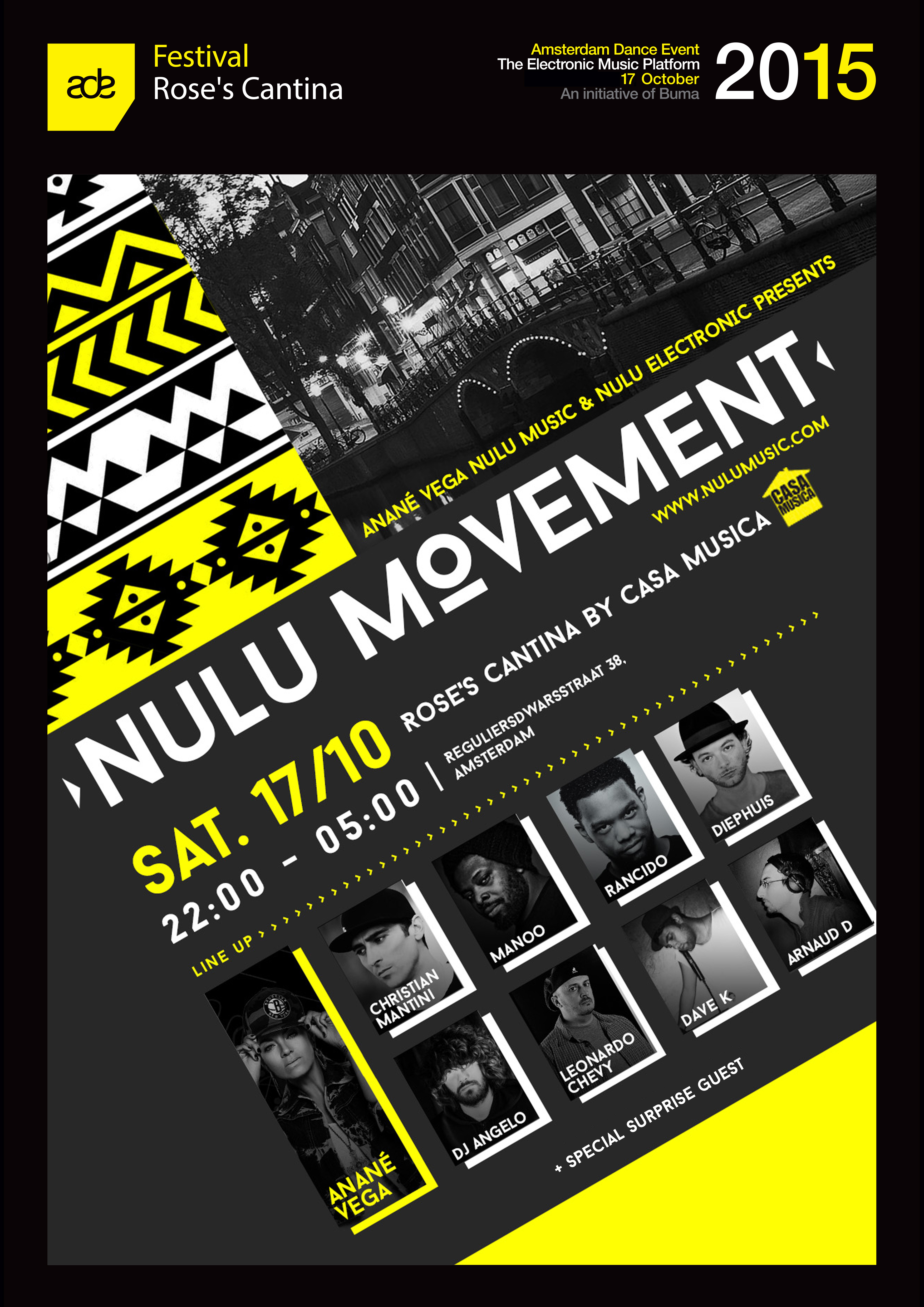 FOR THE FIRST TIME AT ADE
SATURDAY 17 OCTOBER 2015
 
ANANÉ VEGA NULU MUSIC & NULU ELECTRONIC PRESENTS
 
"NULU MOVEMENT" ADE AMSTERDAM 2015 
 
10.30PM – 5AM AT ROSE'S CANTINA (TWO FLOORS OF MUSIC…NuLu & NuLu Electronic SYMULTANEOUSLY!!!)  
Line-up:
ANANÉ VEGA – CHRISTIAN MANTINI – MANOO – RANCIDO – DIEPHUIS – DJ ANGELO – LEONARDO CHEVY – DAVE K – ARNAUD D
 
———————-
WE HAVE THE PLEASURE TO ANNOUNCE OUR "ADE" DOUBLE COMPILATION COMING OUT ON NULU AND NULU ELECTRONIC IN OCTOBER. 
 
"NULU MOVEMENT" ADE EDITION – AMSTERDAM 2015 
(ALL THE INFO SOON)
———————-
 
Latest Releases on Nulu:
NULU048 – Dj X-Trio Ft. Francis Boy – Dagella
NULU049 – Nulu Movement Vol.1 Compilation (Best of Nulu Part1)
NULU050 – DJ X-Trio Feat. Calado Show – Acorda Nani 
 
Latest Releases on Nulu Electronic:
NULUEL013 – David Montoya – Borachas
NULUEL014 – DJ Angelo & Foremost Poets – 100 Years 
NULUEL015 – Diephuis – Feeling This (Original Mix) 
NULUEL016 – Diephuis – Crossing Borders (Kings Of House NYC Mix) Feat. Anané
 
Upcoming Releases:
NULU051 – Nulu Movement Vol.2 ADE Edition – (Nulu)
NULUEL017 – Nulu Movement Vol.2 ADE Edition – (Nulu Electronic)
(ALL THE INFO SOON)
 
Our music been charted and played by:
Anané Vega, Louie Vega, Kenny Dope Gonzales, David Morales, Hector Romero, Todd Terry, Tedd Patterson, Danny Krivit, Kenny Carpenter, Danny Rampling, Black Coffee, Simon Dunmore, Manoo, Rancido, Diephuis, DJ Angelo, Foremost Poets, Christian Mantini, Leonardo Chevy, Arnaud D, Vialocal, Dixon, &ME, Rocco, Boddhi Satva, Zepherin Saint, Souldynamic, Oscar P, Pablo Fierro, David Montoya….and many more…
 
On Traxsource:
Nulu Music:
www.traxsource.com/label/3066/nulu
 
Nulu Electronic:
www.traxsource.com/label/13698/nulu-electronic
 
On Facebook:
Nulu Music
www.facebook.com/nulumusic?fref=ts
 
NuLu Electronic
www.facebook.com/NuluElectronic?fref=ts
 
Official event on AmsterdamDanceEvent
www.amsterdam-dance-event.nl/program/2015/nulu-music-and-nulu-electronic-presents-nulu-movement/4894663/
 
Official event on Resident Advisor
www.residentadvisor.net/event.aspx?746169
 
Website:
www.nulumusic.com
 
NuLu Music & NuLu Electronic based in NYC is an independent label started by Anané Vega in 2009 dedicated to bringing the Afro-House sound to an international level, seeing that her market was in Europe where she works mostly as a dj in 2012 Anané launched NuLu Electronic dedicated to the deep house/deep tech sound. The NuLu philosophy is one that allows the artist/producer to be totally open and free in their creations in various sounds, ideas and styles about music and so NuLu gives them an open platform to showcase their versatility.
CAN'T WAIT TO MEET YOU THERE…
Rose's Cantina by "Casa Musica" /// Reguliersdwarsstraat 38, Amsterdam /// Free entrance.
Check and follow the event on facebook:
www.facebook.com/events/418407095019615/