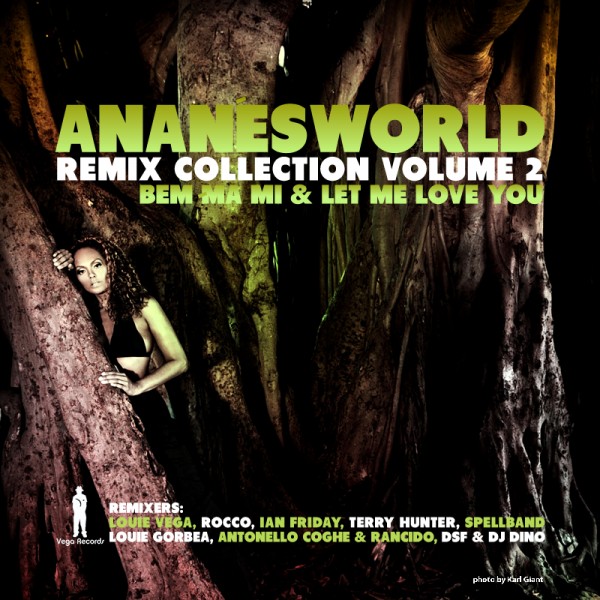 ANANESWORLD REMIX COLLECTION VOL. 2
Singles: Let Me Love You and Bem Ma Mi (August 2011)
(NEW YORK) – ANANESWORLD REMIX COLLECTION VOL. 2 delivers pure heat for the summer with a string of innovative revisions to Bem Ma Mi, the first full release single from Anane's debut album in 2008,
and the Bunny Mack classic, Let Me Love You. Music aficionados and dancers won't be able to resist four new intoxicating versions of the lush Bem Ma Mi, ranging from the sultry, beats-driven Casamena Instrumental
that highlights a beautiful chord arrangement to a soulful uptempo touch provided by Ian Friday's mix (Tea Party Music, Libation Party, NYC).
Anane's sensual style on the original track produced by Louie Vega won high praise as it uplifts the cultural essence of Anane's homeland of Cape Verde. Fortunately, that smooth, tropical vibe remains intact on additional remixes (Lou Gorbea and Chris Perez Radio Edit and Antonello Coghe and Rancido's Madame-X Vision Mix).
The 2005 Let Me Love You remake released on Vega Records proved a perfect fit to Anane's captivating vocals and Mr. V's lyrical rap, earning much respect on the dance floor and clubs worldwide. This time around,
more firepower comes from producers and DJs at the top of their game in the dance industry. Let Me Love You enters another dimension on ANANESWORLD REMIX COLLECTION VOL. 2 with fierce Latin percussions and melodic undertones (Louie Vega EOL Instrumental Remastered) and undeniably deep mixes by Rocco, DSF and DJ Dino.
Coghe teams up with Netherlands' sensation Rancido again to deliver a sexy, powerhouse kick on the Madame-X Vision Mix II. An Original Remix paying tribute to the Bunny Mack sound with featured rap artists Leah
Beabout and Boss AC sizzles with rapid-fire delivery. Also keeping this track fresh and funky for the masses are mixes by Chicago's legendary house music DJ Terry Hunter and Spellband of Italy. Don't sleep … there's more to come from ANANESWORLD REMIX COLLECTION VOL. 2.